No need to fret, we are here to help you select a shade!
PLEASE SEE INSTRUCTIONS BELOW BEFORE SENDING A PHOTO TO AVOID HAVING TO RETAKE AND RESEND. IMPROPER LIGHTING WILL LEAD TO AN INCORRECT COLOR MATCH.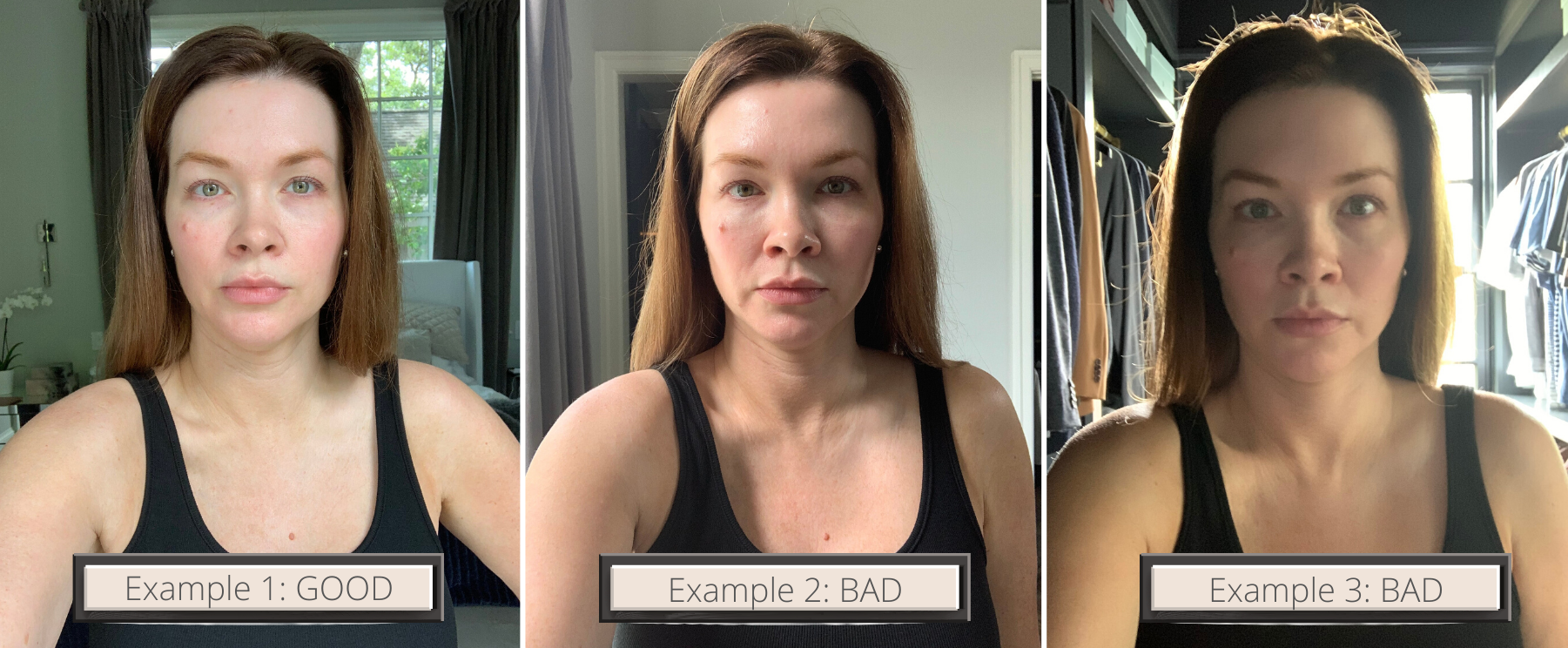 STEP 1: STAND INSIDE AND FACE A WINDOW TO TAKE YOUR PHOTO
- Do not stand outside (it creates shadows)
- Do not wear makeup
- Directly face the window (Not with window to the side of you, or behind you like Ex.2 and Ex.3 above)
- Turn off lights behind you
- Do not take a photo in your bathroom or closet
- Do not use a flash
- Do not filter or blur your photos
- Do not crop in your pic. We need to see both your FACE + CHEST in one photo.
- Wipe off your camera lens for smudges/fingerprints to avoid blurry/cloudy photos
STEP 2: EMAIL YOUR PHOTO TO [email protected]
- List all items you would like to be color matched for (foundation, eye colors, lip colors)
- Be specific. If you hate pink lipstick, let us know. If you want a natural eye combo or a smokey eye suggestion.
- Please include your phone number incase we need to call you.
STEP 3: ORDER YOUR COLORS ONLINE
- OPTION 1:  Order the suggested colors after we color match you. We suggest you also ask for a sample of the PRIMER + FOUNDATION in the ORDER COMMENTS in the last step of checkout online. Even if you are ordering those items, you will be able to test the sample before opening the full size items. If you are unhappy with the formula or color after trying the sample, you can return/exchange the unopened/unused full size item within 30 days of purchase.
- OPTION 2: Order the suggested lip or eye options and ask for a sample of the PRIMER + FOUNDATION to try before you buy. Then place a separate order after trying the samples.
- OPTION 3: Call the office at 832-831-3456 to order samples without an online order. We do not charge for the samples, you only pay $6.95 for shipping. Domestic orders only please.
OTHER INFO ON COLOR MATCHING:
Your color match will only be as good as your photo. This is why we are very specific about lighting. If you do not submit a photo with instructions above, we will ask you to retake. We want you to be happy with your colors, therefore your lighting is extremely important to achieve the proper match.
We have a makeup artist that replies to emails from 9am-5pm Monday-Friday (CENTRAL TIME). If you submit a photo for color matching over the weekend, please wait until Monday for a response.
If you haven't received a response within 48 hours, please first check the spelling of JENTRY KELLEY in the email address you sent to (many people send emails to [email protected] - and we don't get those), check your spam folder for our response, and then forward us your email incase it was overlooked.